Light up your Holidays at Garvan Woodland Gardens - The Waters Hotel
Light up your Holidays at Garvan Woodland Gardens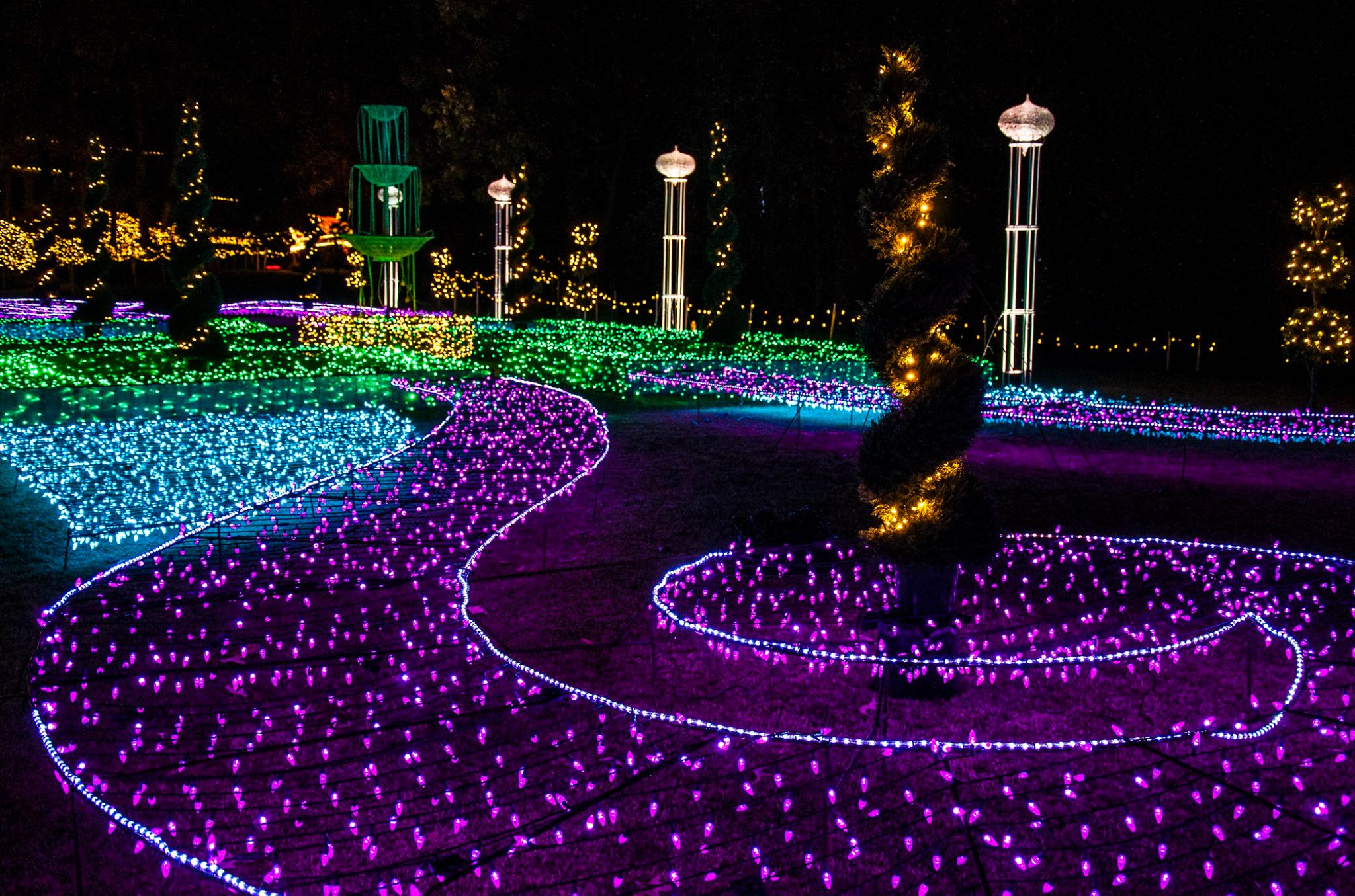 ---
When you spend the holidays in Hot Springs, no experience is complete without a visit to Garvan Woodland Gardens Holiday Lights. This incredible lighting display is available daily from November 23 through December 31 from 4-9 p.m., offering a festive and creative event to join in the holiday season. Located just 8 miles from The Waters Hotel, we encourage our guests to take part in this unique celebration.
A magical stroll through the Botanical Gardens will take you on a tour of the facility with a holiday twist. Enjoy the twinkling staircases and glowing bridges while observing the themed displays. Trees are adorned with a variety of lights, as festive music guides you through each unique exhibit. Be sure to take note of the special events (such as visits with Santa and his reindeer on November 25, 26 and 27, or the tree lighting festival on November 23) as well as the memorable free concerts. And don't forget to take advantage of the free hot chocolate for your stroll!
If you've never had the opportunity to visit this remarkable holiday display, be sure to plan in advance. Tickets are available online beginning November 1st to help alleviate long wait times (especially on busy nights and weekends.) Admission prices are $15 for adults, $5 for children ages 4-12, and kids three and under are free. Garvan Woodland Gardens members are free with a current membership card, but no dogs are allowed in the Gardens during this display.
Garvan Gardens is closed Thanksgiving and Christmas Day. ​The entire display is wheelchair and stroller accessible, with plenty of benches and stopping points. Food and beverages are available through the Chipmunk Cafe from 4-9 p.m. The trail is about a mile long, so please dress accordingly and plan to take breaks as needed.
Whether you are a Hot Springs regular, or a new guest to our fine city, a holiday stop at Garvan Gardens is a must. Ask our staff for directions after checking into the ​hotel​, or stop by ​The Avenue​ for a pre-stroll appetizer. Enjoy the festivities of Hot Springs this holiday season.
For more information on Garvan Woodland Gardens Holiday light display click ​here​. To purchase tickets in advance:
Go to ​garvangardens.org​ and click on the TICKET link.
Create your UTix account, choose and order your tickets online for DATE and TIME desired
Bring Ticket Code(s) on your MOBILE DEVICE or as a PRINTED TICKET for admission to Holiday Lights
Please note:
Online Ticket holders will use the EXPRESS ENTRANCE LANE to enter and park.
Arrive no earlier than 15 minutes before your TICKET ENTRANCE TIME.
Members do not need Reserved Time Tickets, but Members do need to bring a
PHOTO I.D. and their MEMBERSHIP CARD to use the EXPRESS ENTRANCE LANE. If members are bringing visitors who need to pay admission, then they will need to purchase online Reserved Time Tickets.

UA-92336543-1